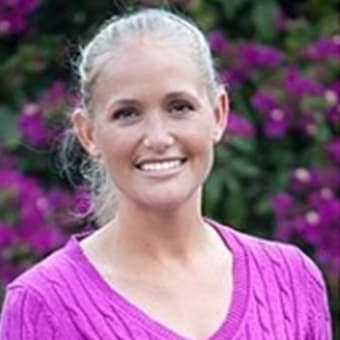 Dr. Candace Runyan, DVM
Candace grew up in the San Fernando Valley and had always dreamed of becoming a veterinarian. She was taught from an early age to have respect and love for animals. After working in sales for a few years, Candace decided to go back to school, and now follows her passion as a Veterinarian at Carlsbad Animal Hospital!

After receiving a Bachelor's degree in Communication from San Diego State University, Candace worked in the hotel industry for a few years. She made the decision to go back to school, graduating from Ross University School of Veterinary Medicine in the Caribbean. After a clinical year at Louisiana State University, she moved back to San Diego and started at Carlsbad Animal Hospital after completing a rotating internship. As a veterinarian, Candace particularly enjoys emergency medicine and surgery. Both can be stressful, but Candace loves the fast pace and attention to detail!
At home, the animals in Candace's house outnumber the humans. She lives with her boyfriend Allen, an aspiring veterinary dentist, and their three pets. Sebastian and Simon are their two cats, and Gus is their dog who knows a lot of tricks except coming when he's called. Candace and her boyfriend like to spend time outdoors, running, biking, hiking, and playing volleyball. Candace loves setting personal fitness goals—it started with her first marathon, the La Jolla half marathon. She says her next feat will be a triathlon!